General information on Nice
Information contained in this digest is reprinted by the permission of the Nice tourism office. For additional information see the website http://www.nicetourisme.com/GB/som.html
Nice
Its worth taking the time to discover Nice in depth : wander at random through the narrow streets of the old town and then stroll along the famous "Promenade" before entering into the heart of the city with its rich architectural and cultural heritage and its parks and gardens.
Nice has a total of 19 museums and galleries, 32 classified historical monuments and 300 ha of parks and gardens, woodland and green areas in addition to 150 ornamental lakes and fountains.
Le JARDIN ALBERT 1ER
Nice's oldest garden comprises, together with the Esplanade du Paillon, Square Leclerc and Promenade du Paillon, an oasis of greenery stretching over 2km from the seafront towards the hills.

L'ESPLANADE du PAILLON ou ESPACE MASSÉNA
Fountains mingle with the play of light in this restful and flowery esplanade between the Old Town and the centre. A magnificent perspective : a forum, a central lake of 1,500 sq m and a gently undulating area to the east comprise the main features.

Le PARC du CHÂTEAU
One can play at getting lost for pleasure in this maze of greenery, where, in summer, one particularly appreciates the coolness of the fountain and shrubs. Lift to the top of the hill : Tel. 04 93 85 62 33.
(Open 7 days a week - from October to March 10 am to 5.30 pm - April, May, September 9am to 7pm - June, July, August 9am to 8pm).



MUSEUM of CONTEMPORARY AND MODERN ART
This original architecture (four grey marble towers linked by transparent walkways) and a major permanent collections tracing the history of the European and American avant-garde since the early sixties.
Promenade des Arts
Tel. 04 97 13 42 01, Open 10 a.m. - 6 p.m., except Monday and holidays. Internet : www.mamac-nice.org

FINE ARTS MUSEUM
Permanent exhibition. In a beautiful private home built in 1876, vastes collections of paintings from the 17th (Italian in particular), 18th (Van Loo, Hubert Robert, Fragonard) and 19th (Romanticism, Realism, Orientalism, Symbolism and Impressionnism: Degas, Boudin, Dufy, Sisley, etc.) centuries. Major works by Chéret, Ziem and Van Dongen as well as sculptures by Carpeaux and Rodin. Temporary exhibitions
33, Avenue des Baumettes, Tel.04 92 15 28 28,
Open 10 a.m. - 6 p.m., closed Monday and some holidays.
An Itinerary for discovering the Old Nice
This is one of the most picturesque and widely visited parts of the city. This itinerary is best followed to foot to appreciate the Baroque style of the old town.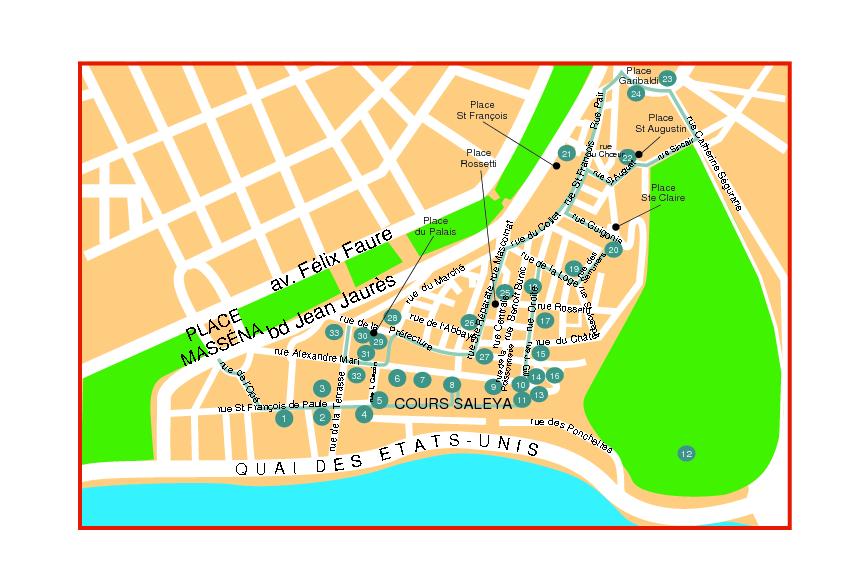 1 Les BOUTIQUES de la RUE SAINT FRANÇOIS de PAULE
Rue Saint François de Paule
In this relatively recent street of old Nice, you will find various provençale-style boutiques.



2 L'OPERA, Rue Saint François de Paule. Built in 1885 by the niçois architect François Aune as an imitation of the Palais Garnier in Paris, this is one of the most decorative French theatres, due its seafront façade, its ceremonial staircase and painted ceiling.

3 ÉGLISE SAINT FRANÇOIS de PAULE, Rue Saint François de Paule. This 18th century church materialises the transition between Baroque and neoclassicism with its austere façade.

4 PALAIS SAINT SAUVEUR, Rue Saint François de Paule, A plaque commemorates the passage of General Bonaparte, Commander in chief of the Italian army.

5 PALAIS de la PRÉFECTURE, Place Pierre Gautier. The Préfecture has been located here since 1860. The façade features windows with columns and there is a splendid gallery lit by painted windows. .

6 CHAPELLE de la MISÉRICORDE, Cours Saleya. This chapel belongs to the "Penitents noirs" (fellowship).

7 PALAIS ANNIBAL GRIMALDI. Cours Saleya. The façade has been renovated and painted with "trompe–l'oeil", with balconies of the 19th century.

8 ANCIEN HOPITAL SAINT–ROCH, 3 rue Charles Félix

9 MAISON CAIS de PIERLAS, At the foot of the castle hill.
This property, dating from 17th century, was the home of Henri Matisse from 1921 to 1938.

10 ADAM and EVE. They are represented on the low-relief of this building 8 rue de la Poissonnerie.

11 CHAPELLE SAINT SUAIRE SAINTE TRINITÉ, Rue Jules Gilly
This chapel belongs to the "pénitents rouges". It was partially restored in 1763.

12 LA COLLINE du CHÂTEAU
There are various possibilities for reaching the top of the hill : by foot through the streets of the old town (montée du Château, montée Monica Rondelly) or by taking the lift
(Place du 8 Mai 1945 at the end of Rue des Ponchettes. The hill is covered by a shady park full of Mediterranean essences, with an ornamental waterfall, and offers an exceptional panorama over Nice and its surroundings. Little remains of the old fortress except the relics of the Cathédrale Santa Maria de l'Assompta.

13 FORMER SÉNAT BUILDING, Rue Jules Gilly
Built in 1614 and no longer used after 1848, the building now houses a night hostel run by the social services.

14 La TRAPPA, Angle rue Gilly–Malonat Founded in 1866, this house was a meeting place for "cuisine niçoise" enthusiasts.

15 LAVOIR PUBLIC, Rue de l'ancien sénat, this was the last public wash-house in old Nice.

17 ÉGLISE du JESUS, Rue Droite. Built in 1607, this was the first parish founded in the old town. The Baroque influence is very present with a heavy decoration in false marble, stucco, angels and medallions.

18 PALAIS LASCARIS
Rue Droite
This is the only Baroque Palace open to the public as a museum. The opulent decoration of the facade, the impressive gate and the magnificent stairway are to be admired.
19 CHAPELLE SAINTE CROIX
Rue Saint Joseph. Since 1764, this chapel is home to the "penitents blancs". Closed to the public

20 CHAPELLE de la VISITATION
Situated at the foot of the staircase leading to the castle hill (montée Monica Rondelly) Dating from 1609, the chapel features a "trompe–l'œil" decoration.
21 PALAIS COMMUNAL, Place Saint François
This is one of the rare public Baroque buildings in the old town, today it houses the labour exchange..

22 ÉGLISE SAINT MARTIN, SAINT AUGUSTIN, At the end of rue du Choeur
This 16th century church features false marble, decorated arches and paintings.

23 PLACE GARIBALDI
Dating from the 18th century, this elegant square was the first extension of the old town toawrds the new. Renovated on several occasions, the building facades are now ochre-coloured with green shutters. In the centre of the roundabout - once a gathering place for festivities - stand a statute of Giuseppe Garibaldi, born in Nice in 1807.

24 CHAPELLE du SAINT SÉPULCRE
On one side of the Place Garibaldi, also referred to as the "chapelle des pénitents bleus".

25 PLACE ROSSETTI
An Italian atmosphere reigns in this square with ochre-coloured facades, balconies with flowers, the fountain, the Baroque Cathedral, and the café terraces.

26 CATHÉDRALE SAINTE RÉPARATE
Place Rossetti
The cathedral dates from 1650 and has been restored on various occasions. On its 250th anniversary, it was named basilica.


27 ÉGLISE de l'ANNONCIATION dite de SAINTE RITA, Rue de la préfecture
The austere exterior is in contrast with the rich interior decoration.

28 PALAIS du COMTE de CESSOLE, Rue de la préfecture, A surprising gateway.

29 PLACE du PALAIS, The square was renovated "à l'italienne" in 1989, it is now a pedestrian area with ornamental fountains.

30 TOUR de l'HORLOGE
This 18th century clock tower was built on the ruins of a former Franciscan monastery bell tower.
31 PALAIS de JUSTICE
This neoclassical style building has recovered its original facade due to a renovation programme of public buildings designed by the city planning service.

32 PALAIS HERAUD, Rue Alexandre Mari. Inside, a splend Baroque staircase.

33 PALAIS CORVESI, Rue de la Terrasse
One of the most impressive staircases of old Nice with decorated arches and ceilings. The building is used as a city hall annexe since 1937.
Around Nice
Visit Port Vauban; The old Provençal town: its narrow streets and flower-covered squares, the cathedral, the ramparts;The Picasso Museum, Peynet Museum, Naval and Napoleonic Museum.
Nearby
• CAP d'ANTIBES: the road follows the Cape along 16 miles between the sea and pine groves (splendid views) and a trail along the water's edge conects La Garoupe beach and the tip of the Cape
VILLA THURET
At the centre of the cape, the oldest acclimatation garden on the French Riviera groups 3000 plant species on a 4-ha estate managed by the INRA (National Institute for Agronomic Research).
Office de Tourisme d'Antibes — Juan–les–Pins www.antibes-juanlespins.com
11, place du Général de Gaulle, 06600 Antibes,Tel.: 33 (0)4 92 90 53 00

BEAULIEU–SUR–MER
VILLA GRECQUES KERYLOS
In the enchanting location of the "Baie des Fourmis"an authentic replica of an ancient Greek Villa (mosaics, murals, artefacts, furniture). Mediterranean garden. Also the "le café Kerylos" tea-room; view of Cap Ferrat.
Office de Tourisme, www.ot-beaulieu-sur-mer.fr Tél.: 33 (0)4 93 01 02 21

BIOT
VERRERIE de BIOT (Glassworks)The verrerie de Biot offers around the traditional glass-blowing workshop of bubble glass, the Ecomusée de la Verrerie, International Gallery of Glass and Novaro Gallery. .
MUSÉE national FERNAND–LÉGER
Office de Tourisme de Biot, www.biot-coteazur.com, Tel.: 33 (0)4 93 65 78 00

CAGNES–SUR–MER
• The fortified medieval town of Haut-de-Cagnes, its narrow winding streets, its 14th century castle;
• The Renoir Museum and its thousand year-old olive trees.
Office de Tourisme, www.cagnes.com Tél.: 33 (0)4 93 20 61 64

CANNES
• La Croisette and the Festival Hall ;
• The elegant city centre and luxury boutiques;
• Old Cannes and the Suquet hill (Tower, Musée de la Castre, panorama over the bay of Cannes and the Estérel mountains).
Nearby
• Les îles de Lérins. Just a few minutes from the Port of Cannes, these islands offer pristine nature.
- Île Sainte-Marguerite (170 ha of forest, botanical trail, 17th century fort, Museum of the Sea)
- Île Saint-Honorat (Cistercian monastery).
Office de Tourisme, www.cannes-on-line.com, Tél.: 33 (0)4 93 39 24 53
GOURDON
• The medieval village, the 12th century church; The 12th century castle;
• From Place Victoria, an incomparable view over 50 miles of the French Riviera, from Nice to Théoule sur Mer).
Syndicat d'initiative, www.gourdon-france.com Tél./Fax: 33 (0)4 93 09 68 25

MENTON
• The old city,Saint-Michel church and parvis;
• The port and Jean-Cocteau Museum;
• Gardens (Palais Carnolès and its citrus garden, Jardins Biovès, Parc du Pian, Jardin Fontana Rosa, Square des États-Unis)
Office de Tourisme, www.villedementon.com, Tel.: 33 (0)4 92 41 76 76

PRINCIPALITY OF MONACO
• On the "rock": the Prince's Palace (changing of the guard), the Oceanographic Museum, old town.
• In Monte–Carlo: the casino, National Museum of Automats, Japanese garden.
• In Fontvieille: HSH the Prince of Monaco's collection of antique cars
Nearby
• Jardin exotique, Observatory and Anthropology (Grande Corniche).
• Coastal trail between Monaco and Cap d'Ail
Office de Tourisme, www.monaco-congres.com, Tel. : + 377 92 16 61 16

SAINT–JEAN–CAP–FERRAT
• The village, the harbour;
• Chapelle Sainte-Hospice and the Black Virgin; • Ephrussi–de–Rothschild Museum;
• The zoo.

Le cap Ferrat
• the road winds among luxurious estates between the sea and pine groves for 9 miles around the cape.
• it is possible to walk around the cape following footpaths (taking between 1 1/2 and 2 hrs on foot ) or reach Beaulieu-sur-Mer from the village of St Jean Cap Ferrat (approx 1/2 hour).

EPHRUSSI–de–ROTHSCHILD VILLA AND GARDENS
This sumptuous home, built from 1905 to 1912, illustrates the splendour of the Belle Epoque at a time when the Mediterranean coast, with its wealthy winter visitors, was becoming the "Riviera". The villa is surrounded by a splendid park made up of 7 theme gardens. There are nearly 5 000 exceptional works of art and pieces of furniture.
Office de Tourisme, Tel.: 33 (0)4 93 76 08 90

SAINT–PAUL–DE–VENCE
• Art galleries (70 galleries-studios);
• The fortified village, 13th century church, ramparts and panorama over the hills and sea;
• Fondation Maeght (collection of contemporary art), Saint-Paul Museum (exhibition of contemporary art),.
Office de Tourisme, Tel.: 33 (0)4 93 32 86 95

VENCE
• Arts and crafts (numerous artists' galleries and studios)
• historic town and 11th century Cathedral;
• Chapelle du Rosaire, from Matisse;
• Château Notre–Dame–des–Fleurs (galerie Beaubourg).
Office de Tourisme,www.ville-vence.fr,Tél.: 33 (0)4 93 58 06 38

Local Weather in Nice
September in Nice is usually sunny, with a mean temperature of 20.5 °C (68.9 Fahrenheit) and a sea temperature of 22.5 °C (72.5 Fahrenheit). In September Nice average 238 hours of sunny days and 3 rainy days.
Tourist Information
Free maps, brochures, tourist information and advices are available at the Tourist information offices:
5 Promenade des Anglais, Tel. : + 33 (0) 892 707 407, Open from 8am to 8pm Monday to Saturday and 9am to 6pm on Sunday

Nice Côte d'Azur Airport– Terminal 1, Tel. : + 33 (0) 892 707 407, open from 8am to 9pm Monday to Sunday
Transportation
Accessing Nice by air: The Nice-Côte d'Azur Airport is the second largest in France. More than 10 million passengers travel through each year. 45 airlines make 82 direct connections to 27 countries worldwide and operate a large number of daily flights to and from 30 other French cities.
NICE–CÔTE D'AZUR AIRPORT 06281 Nice cedex 3, Flight information : 33 (0)820 423 333
Internet : www.nice.aeroport.fr.
Airport/City centre connection by regular bus services and taxi
Bus n° 23 : Airport /SNCF Rail station, Price : 1,30 € one way. Departures from Terminal 1 every 30 minutes, between 6 am and 9pm. "Ligne d'Azur" also proposes travel cards which allow for unlimited travel on the city bus network for 1 to 7 days, and include a free trip on the "Airport-Nice City" route.
Taxi: day rate around 20 €, nigth rate around 30 €
AUTO NICE TRANSPORT: Direct route "Airport-Nice" : Airport/city centre/bus station, via the Promenade des Anglais. Price : 4 € one way + including free transport for the same day on the city bus network. Tel. : 33 (0)4 92 29 88 88
Many other companies offer transfert service from or to the airport but services must be reserved in advance for a minimum of 2 persons, please consult the registration desk.
Accessing Nice by train: La SNCF (French National Railway Company) provides 11 regular connections from abroad and 20 daily connections with the largest cities in France. The T.G.V. (high-speed train) links Paris to Nice in 6 1/2 hours.
GARE SNCF (Main railway station), Avenue Thiers, Tel. : 33 (0)4 92 14 82 52/53, www.sncf.fr
A local attraction is the "Train des Pignes" that connect Digne to Nice at a leisure pace through a picturesque pathway.
CHEMINS de FER de PROVENCE, 40, rue Clément-Roassal, BP 1387
06007 Nice Cedex 1, Tél. : 33 (0)4 97 03 80 80, www.trainprovence
Accessing Nice by road: Nice interconnects with major European cities via an extensive motorway network. The city is linked by the A8 "La Provençale" to Aix-en-Provence on the west and the Italian border on the east. It takes approximately 9 hours to drive from Paris to Nice by motorway.


Public transportation: the transport network of the "Communauté d'Agglomération Nice Côte d'Azur" (24 towns) offers 40 day-time bus routes, 4 night-time routes, a tramway (the line 1 provides a north/east connection passing through the city centre by the avenue Jean Médecin and the Place Massena).
Taxi
CENTRAL TAXI RIVIERA, Tel. : 33 (0)4 93 13 78 78, Switchboard 24 hours a day, 7 days a week
Night rate from 7pm to 7 am
Main taxi ranks : Esplanade Masséna, Promenade des Anglais, Place Garibaldi, Rue Hôtel-des-Postes, Railway station, Acropolis
Vehicle Rental
All major car rental companies have a desk at Nice airport and offices in Nice. Renting a car may be a solution to visit the small villages around Nice. Legal speed limits in France are 130 km/h on the highway (beware of automatic radars), 90 km/h on National roads and 50 km/h in cities. Fastening seat belts is compulsory for all passengers.
Useful Information for the Visitor from Abroad
Language
The official language of IEEE/RSJ IROS 2008 is english. Nice being a touristic area many people there practice a foreign language. The organizers are making special effort to have a variety of foreign language speakers resident at the registration desk.
Currency
The unit of currency of most European countries is the the Euros (€). Denomination of bills are 5, 10, 20, 50 and 100 €. Avoid having 50 and 100 € bills because it is difficult to make change on such bills. Coins are issued using the conversion of 1€=100 cents. Coins have the following denominations: 1 centes, 2 cents, 5 cents, 10 cents, 20 cents and 50 cents.
Credit cards
All major credit cards may be used in France but cash may be necessary in some cases
Time
France is in the Central European Time Zone. Central European Standard Time (CET) is 1 hour ahead of Greenwich Mean Time (GMT+1).
Electricity
Electricity is 220 Volts, 50 Hz AC: plugs are two round pins. Converters can be purchased at airport shops or in commercial malls
Water
Water on tap can be drink without problem and mineral water can be easily bought in many places.
Measurement Only the Metric system is used in France
Tipping Tipping may be awaited in restaurants or for a taxi but is not compulsory
Smoking Smoking is prohibited in all public places
Hotline and safety
Police can be contacted by dialing 17. Nice is usually a safe place even at night if you avoid some parts of the town. But as any touristic place beware of pickpockets and keep your belonging in a safe place. A service for foreign tourists is available at the Central Police Station, 1, avenue Maréchal Foch from 8am to midday and 2-6p, Tel. 04 92 17 20 31. Medical emergences are contacted by dialing 15. 7 days a week - 24 hours a day pharmacies are located 7, rue Masséna and 66, avenue J. Médecin
Consulates
USA: 7, avenue Gustave V Tél: 04 93 88 89 55 Canada: 10, rue Lamartine, Tél : 04 93 92 93 22
UK: 22, avenue Notre-Dame, Tél : 04 93 62 94 95
Banks
Banks are generally open from 8.30am to 11.45am and from 1.30pm to 4.30pm from Monday to Friday. Closed on official holidays.
Telephone number to report loss or theft of major bank cards:
American Express : tel. 01 47 77 72 00 Carte Bleue Visa : tel. 00 825 809 803
Diner's : tel. 0 820 000 734 Eurocard Mastercard : tel. 01 45 67 84 84
Currency exchange Services
American Express, Nice Airport, Terminal 1, 0493215979, 7/7, from 7am to 9 pm
Change Mediterranee, 17 Av. Jean Médecin, 0403879972, from 8.30 am to 7 pm
Food
There are plenty of restaurant in the Old town within walking distance from Acropolis Convention Center. Here is a short list of typical dishes from Nice:
The salade niçoise, is a combination of raw vegetables seasoned with olive oil and including hard-boiled egg and anchovies.

The pan-bagnat, literally « soaked bread », is a salade niçoise between two slices of bread rubbed with garlic and soaked in olive oil.

The pissaladière, an onion tart garnished with olives and anchovies

The socca, a large "pancake" made with chick pea flour, cooked in a wood oven on a copper tray, to be eaten piping hot and with lots of black pepper.
The ratatouille, peppers, courgettes, aubergines, tomatoes and onions, gently fried in olive oil.
The farcis, (or stuffed vegetables) tomatoes, courgettes, peppers, onions and aubergines all have their specific stuffing. Delicious hot or cold.
The tourte de blettes, between two layers of pastry, a sweet filling made of swiss chard, pinenuts and raisins, flavoured with "pastis", one of the most surprising local desserts.
Useful french sentences (thanks to P. Wenger)
English French
Miscellaneous Divers
Good morning , Hello Bonjour
Good evening , Good night Bonne soirée, Bonne nuit
Good bye, Please Au revoir, S'il vous plait
Thank you Merci
Yes/No Oui/Non
Excuse me Excusez moi
Where is…? How much? Où est ce…? Combien ?
I'd like… Je voudrais…
What time is it ? Quelle heure est il ?
May I have a ? Puis je avoir ?
What is this ? Qu'est ce que c'est ?
I don't know, I don't understand Je ne sais pas, Je ne comprends pas
What does it mean ? Qu'est ce que cela signifie ?
Does anybody speak English Y-a-t-il quelqu'un qui parle anglais ?
You are welcome De rien, il n'y a pas de quoi
This is an emergency C'est urgent
Where can I find a doctor (a physician) Où puis-je trouver un médecin ?
At what time do the museums open ? A quelle heure ouvrent les musées?
The nearest post-office, please Le bureau de poste le plus proche s'il vous plaît
The car la Voiture
Fill up the tank, please Le plein s'il vous plait
Gasoline (Unleaded Regular) Essence (Sans Plomb 95)
Diesel Gas-Oil, Diesel
I have a flat tire J'ai un pneu à plat
Where is the nearest garage Où est le garage le plus proche
At the Hotel A l'hotel
I would like to reserve/book a room Je voudrais réserver une chambre
- single - simple
- double - double
- twin - à deux lits
When should I check out? A quelle heure dois-je rendre la chambre?
Is there a restaurant in the hotel or nearby ? Y-a-t-il un restaurant dans l'hotel ou à proximité?
The bill, please Donnez moi la note s'il vous plaît (ou puis je avoir la note, s'il vous plaît ?)
Is the service included ? Est-ce que le service est compris ?
At the Restaurant Au Restaurant
Could I have the menu, please ? Je voudrais le menu s'il vous plaît
I'll have : Je prendrai :
- a glass of water (of wine) - un verre d'eau (de vin)
- a bottle of water (of wine) - une bouteille d'eau (de vin)
- black coffee - un café noir (expresso)
- white coffee - un café au lait
- orange juice - un jus d'orange
- a beer - une bière
May I have another drink, please ? Puis-je avoir un autre verre s'il vous plaît?
Starter Entrée
Main course Plat principal
Dessert Dessert
- fruit salad - salade de fruit
- ice cream - glace
The bill, please L'addition s'il vous plait
Breakfast Petit déjeuner
Lunch Déjeuner
Dinner Dîner
In a store Dans un magasin
How much is it ? Combien cela coûte-t-il ?
I would like to pay Je voudrais payer
- cash - en liquide
- with a credit card - par carte de credit
- in traveller checks - par chèque de voyage